Klinische Studien
in der Onkologie
Klinische Studien in der Hämatologie und Onkologie dienen sowohl der Qualitätssicherung und Weiterentwicklung der Therapien von Krebspatienten, als auch der Diagnostik und Verbesserung der Therapiesteuerung. Sie bieten unseren Patienten Vorteile durch die klar strukturierten Behandlungsabläufe, die zusätzliche interne und externe Begutachtung aller Befunde durch Experten in den jeweiligen Studienzentralen, und vor allem durch die Verfügbarkeit neuer Medikamente oder Behandlungskonzepte.
Die Behandlung unserer Patienten im Rahmen klinischer Studien soll dazu beitragen, etablierte Behandlungsverfahren zu verbessern (sog. Phase III Studie: Vergleich eines etablierten Standards mit einer – möglicherweise – besseren Therapie) oder neue Medikamente bzw. Behandlungsverfahren zu etablieren (sog. Phase I und Phase II Studien).
Die Durchführung aller Studien erfolgt nach der Deklaration von Helsinki1 und richtet sich nach den Regeln der guten klinischen Praxis2.
Die international gültigen Standards in Studien, die im Rahmen einer medizinischen Behandlung von Patienten durchgeführt werden, werden in Deutschland durch das Arzneimittelgesetz (AMG) genau geregelt. Die professionelle und gesetzeskonforme Durchführung von Studien wird an der Universitätsmedizin Göttingen (UMG) durch das Studienzentrum UMG (Leitung: R. Bredenkamp) unterstützt.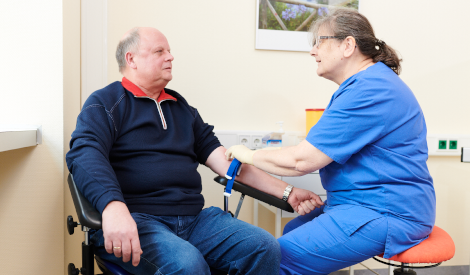 1 Hellmann F. et al.: 50(th) Anniversary of the Declaration of Helsinki: The Double Standard Was Introduced. Arch Med Res. 2014
2 EMEA 2006: Guideline for Good Clinical Practice
Schwerpunkte der klinischen Studien
Unser Studiensekretariat betreut und organisiert derzeit mehr als 50 nationale und internationale klinische Studien aller Prüfungsphasen (Phase I-IV) mit und ohne Unterstützung der pharmazeutischen Industrie. Entsprechend unserer Schwerpunkt-Zertifizierung "Leukämien, Lymphome und andere hämatologische Systemerkrankungen" durch die Deutsche Krebsgesellschaft (DKG), sowie unserer Zertifizierung als Lungentumorzentrum und Kopf-Hals-Tumorzentrum befassen sich unsere klinischen Studien mit der Diagnostik und Therapie von:
hämatologischen Erkrankungen
malignen Lymphomen
akuten Leukämien
Myelomen
Myelodysplastischen Syndromen
Stammzelltransplantation und CAR T-Zell-Therapien
Lungentumoren und
Kopf-Hals-Tumoren
Neben dem Angebot an unsere Patienten, innerhalb klinischer Studien moderne und qualitätsgesicherte Behandlungen zu erhalten, arbeiten wir im Rahmen des Kompetenznetzes Maligne Lymphome in eigenen wissenschaftlichen Projekten an Lymphom-Erkrankungen und der Verbesserung der Patientenversorgung . Diese Projekte werden, deutschland- und europaweit in Kooperation mit zahlreichen Kliniken und Praxen durchgeführt.
Publikationen
Ausgewählte Publikationen
Knop S, Engelhardt M, Liebisch P, Meisner C, Holler E, Metzner B, Peest D, Kaufmann M, Bunjes D, Straka C, Fischer T, Sezer O, Hentrich M, Ostermann H, Bassermann F, Hess G, Hertenstein B, Freund M, Kropff M, Schmidt CA, Wolf HH, Jung W, Frickhofen N, Mielke S, Bargou RC, Maschmeyer G, Svaldi M, Langer CH, Gramatzki M, Hebart H, Kanz L, Einsele H; Deutsche Studiengruppe Multiples Myelom. Allogeneic transplantation in multiple myeloma: long-term follow-up and cytogenetic subgroup analysis. Leukemia. 2019 Nov;33(11):2710-2719. doi: 10.1038/s41375-019-0537-2. Epub 2019 Aug 28.
Wulf G, Hasenkamp J, Jung W, Wilhelm C, Held G, Nickelsen M, Leha A, Pfreundschuh M, Schmitz N, Trümper L, Glass B. Allogeneic stem cell transplantation for patients with relapsed or refractory T-cell lymphoma: efficacy of lymphoma-directed conditioning against advanced disease. Bone Marrow Transplant. 2019 Jun;54(6):877-884. doi: 10.1038/s41409-018-0360-9. Epub 2018 Nov 9.
Haase D, Stevenson KE, Neuberg D, Maciejewski JP, Nazha A, Sekeres MA, Ebert BL, Garcia-Manero G, Haferlach C, Haferlach T, Kern W, Ogawa S, Nagata Y, Yoshida K, Graubert TA, Walter MJ, List AF, Komrokji RS, Padron E, Sallman D, Papaemmanuil E, Campbell PJ, Savona MR, Seegmiller A, Adès L, Fenaux P, Shih LY, Bowen D, Groves MJ, Tauro S, Fontenay M, Kosmider O, Bar-Natan M, Steensma D, Stone R, Heuser M, Thol F, Cazzola M, Malcovati L, Karsan A, Ganster C, Hellström-Lindberg E, Boultwood J, Pellagatti A, Santini V, Quek L, Vyas P, Tüchler H, Greenberg PL, Bejar R; International Working Group for MDS Molecular Prognostic Committee. TP53 mutation status divides myelodysplastic syndromes with complex karyotypes into distinct prognostic subgroups. Leukemia. 2019 Jul;33(7):1747-1758. doi: 10.1038/s41375-018-0351-2. Epub 2019 Jan 11
Kröger N, Eikema DJ, Köster L, Beelen D, de Wreede LC, Finke J, Koenecke C, Niederwieser D, Bornhäuser M, Schoenland S, Potter V, Wolschke C, Maertens J, Theobald M, Kobbe G, Itälä-Remes M, Wulf G, Kahls P, Forcade E, Greinix H, Masszi T, Yakoub-Agha I, Chalandon Y, Robin M; Chronic Malignancies Working Party of the European Society for Blood Marrow Transplantation. Impact of primary disease on outcome after allogeneic stem cell transplantation for transformed secondary acute leukaemia. Br J Haematol. 2019 May;185(4):725-732. doi: 10.1111/bjh.15819. Epub 2019 Feb 28
Horwitz S, O'Connor OA, Pro B, Illidge T, Fanale M, Advani R, Bartlett NL, Christensen JH, Morschhauser F, Domingo-Domenech E, Rossi G, Kim WS, Feldman T, Lennard A, Belada D, Illés Á, Tobinai K, Tsukasaki K, Yeh SP, Shustov A, Hüttmann A, Savage KJ, Yuen S, Iyer S, Zinzani PL, Hua Z, Little M, Rao S, Woolery J, Manley T, Trümper L; ECHELON-2 Study Group. Brentuximab vedotin with chemotherapy for CD30-positive peripheral T-cell lymphoma (ECHELON-2): a global, double-blind, randomised, phase 3 trial. Lancet. 2019 Jan 19;393(10168):229-240. doi: 10.1016/S0140-6736(18)32984-2. Epub 2018 Dec 4. Erratum in: Lancet. 2019 Jan 19;393(10168):228.
Chapuy B, Stewart C, Dunford AJ, Kim J, Kamburov A, Redd RA, Lawrence MS, Roemer MGM, Li AJ, Ziepert M, Staiger AM, Wala JA, Ducar MD, Leshchiner I, Rheinbay E, Taylor-Weiner A, Coughlin CA, Hess JM, Pedamallu CS, Livitz D, Rosebrock D, Rosenberg M, Tracy AA, Horn H, van Hummelen P, Feldman AL, Link BK, Novak AJ, Cerhan JR, Habermann TM, Siebert R, Rosenwald A, Thorner AR, Meyerson ML, Golub TR, Beroukhim R, Wulf GG, Ott G, Rodig SJ, Monti S, Neuberg DS, Loeffler M, Pfreundschuh M, Trümper L, Getz G, Shipp MA. Molecular subtypes of diffuse large B cell lymphoma are associated with distinct pathogenic mechanisms and outcomes. Nat Med. 2018 Aug;24(8):1290-1291. doi: 10.1038/s41591-018-0097-4.
Braulke F, Schulz X, Germing U, Schuler E, Platzbecker U, Nolte F, Hofmann WK, Giagounidis A, Götze K, Lübbert M, Schlenk RF, Schanz J, Bacher U, Ganser A, Büsche G, Letsch A, Schafhausen P, Bug G, Brümmendorf TH, Haas R, Trümper L, Shirneshan K, Haase D. Peripheral blood cytogenetics allows treatment monitoring and early identification of treatment failure to lenalidomide in MDS patients: results of the LE-MON-5 trial. Ann Hematol. 2017 Jun;96(6):887-894. doi: 10.1007/s00277-017-2983-0. Epub 2017 Apr 3.
Glass B, Hasenkamp J, Wulf G, Dreger P, Pfreundschuh M, Gramatzki M, Silling G, Wilhelm C, Zeis M, Görlitz A, Pfeiffer S, Hilgers R, Truemper L, Schmitz N; German High-Grade Lymphoma Study Group: Rituximab after lymphoma-directed conditioning and allogeneic stem-cell transplantation for relapsed and refractory aggressive non-Hodgkin lymphoma (DSHNHL R3): an open-label, randomised, phase 2 trial. Lancet Oncol. 2014 Jun;15(7):757-66.Platzbecker U, Braulke F, Kündgen A, Götze K, Bug G, Schönefeldt C, Shirneshan K, Röllig C, Bornhäuser M, Naumann R, Neesen J, Giagounidis A, Hofmann WK, Ehninger G, Germing U, Haase D, Wermke M.: Sequential combination of azacitidine and lenalidomide in del(5q) higher-risk myelodysplastic syndromes or acute myeloid leukemia: a phase I study. Leukemia. 2013 Jun;27(6):1403-7.
Greenberg PL, Tuechler H, Schanz J, Sanz G, Garcia-Manero G, Solé F, Bennett JM, Bowen D, Fenaux P, Dreyfus F, Kantarjian H, Kuendgen A, Levis A, Malcovati L, Cazzola M, Cermak J, Fonatsch C, Le Beau MM, Slovak ML, Krieger O, Luebbert M, Maciejewski J, Magalhaes SM, Miyazaki Y, Pfeilstöcker M, Sekeres M, Sperr WR, Stauder R, Tauro S, Valent P, Vallespi T, van de Loosdrecht AA, Germing U, Haase D.: Revised international prognostic scoring system for myelodysplastic syndromes. Blood. 2012 Sep 20;120(12):2454-65.
Gauler TC, Besse B, Mauguen A, Meric JB, Gounant V, Fischer B, Overbeck TR, Krissel H, Laurent D, Tiainen M, Commo F, Soria JC, Eberhardt WE:Phase II trial of PTK787/ZK 222584 (vatalanib) administered orally once-daily or in two divided daily doses as second-line monotherapy in relapsed or progressing patients with stage IIIB/IV non-small-cell lung cancer (NSCLC). Ann Oncol. 2012 Mar;23(3):678-87.
Glass B, Kloess M, Bentz M, Schlimok G, Berdel WE, Feller A, Trümper L, Loeffler M, Pfreundschuh M, Schmitz N; German High-Grade Non-Hodgkin Lymphoma Study Group: Dose-escalated CHOP plus etoposide (MegaCHOEP) followed by repeated stem cell transplantation for primary treatment of aggressive high-risk non-Hodgkin lymphoma. Blood. 2006 Apr 15;107(8):3058-64.
Wulf GG, Hasenkamp J, Jung W, Chapuy B, Truemper L, Glass B: Reduced intensity conditioning and allogeneic stem cell transplantation after salvage therapy integrating alemtuzumab for patients with relapsed peripheral T-cell non-Hodgkin's lymphoma. Bone Marrow Transplant. 2005 Aug;36(3):271-3.
Pfreundschuh M, Trümper L, Kloess M, Schmits R, Feller AC, Rübe C, Rudolph C, Reiser M, Hossfeld DK, Eimermacher H, Hasenclever D, Schmitz N, Loeffler M; German High-Grade Non-Hodgkin's Lymphoma Study Group: Two-weekly or 3-weekly CHOP chemotherapy with or without etoposide for the treatment of elderly patients with aggressive lymphomas: results of the NHL-B2 trial of the DSHNHL. Blood. 2004 Aug 1;104(3):634-41